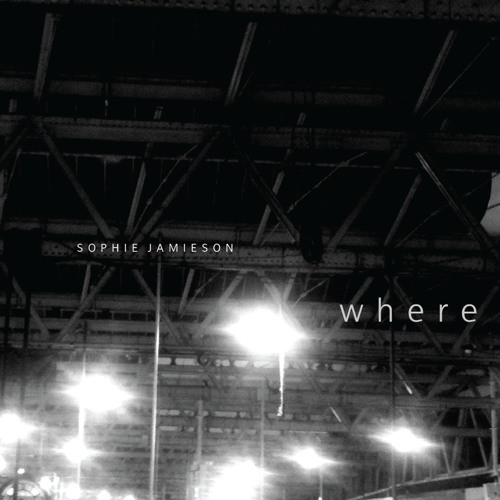 One of my favourite things about blogging, is watching young artists grow and develop. You see their sound change, their marketing become more professional, and their output more confident. You watch nervously as they begin to release material, play larger gigs, and you wait in hope that the rest of the world loves them as much as you do. I've been watching Sophie Jamieson for a while, and I can already see her blossoming as an artist. She's at the very beginning of her career. As a constant gigger on the London live scene, she has quickly attracted attention and has propelled herself up and beyond the haze of other London based singer-songwriters.
At the beginning of the year she announced her signing to Folkroom Records, a small and intimate label based in London. It was one of their Anthologies where I first heard the voice of Sophie Jamieson, on her rather divine track 'Dinah'. It's fair to say it was love at first listen. Her shy voice floated across the silvery guitar and string arrangement. The track, still one of my favourites, blossomed from a simple folk song to something which pulled on heartstrings and shook every bone in my body. Since then I've been waiting patiently for the release of her debut EP,  and it's fair to say that 'Where' has exceeded any expectations I had.
Beginning with 'Waterloo', a track which is also her first single, you can already hear the increase in confidence in her. The shimmering guitars and stomping drum perfectly contrast with her tender voice. It's a voice which is difficult to compare to any other artist. Both deep and rich in places, and breathless and whispery in others. It has a timid quality but it's shakiness is what makes it so rare, honest, and perfectly reflect the lyrics of her songs. On 'The Weight Comes', she warbles 'You Couldn't Carry my Weight // You'd Feel the Ache'. The track which is quite repetitive in melody, makes up for it in the intenseness of the lyrics, you listen and yearn onto every word.
'I Don't', arguably the most experimental track on the EP, winds it's way through string arrangements, drum pounds and sparse guitar parts. It's her voice which shines through on this track, it's strength contrasting with the sadness of the lyrics. The final track was instantly my favourite. 'Ode to the East' has a quality about it which I cannot describe. Maybe I love this track on more of a personal level, as the lyrics resonate deep inside of me, but I doubt anyone can not be blown away by the opening of strings, the delicacy of her voice and the mystery of the words. The atmosphere she has created through this song goes straight to the heart, it creates it's own world, and perfectly rounds off this small offering from Sophie Jamieson.
It's an offering which only leaves you wanting more, an offering to be cherished, and one which provides the perfect introduction to her music. I look forward to watching her grow, her sound develop and her becoming more and more accomplished as a songwriter. This is only the beginning for Sophie Jamieson, but what an incredible beginning it is. She's set herself up for great things.
'Where' is released today via Folkroom Records. You can buy it from iTunes or Bandcamp where it is also available in physical format. On Wednesday Sophie will play The Slaughtered Lamb in London, you can buy tickets here.